"Just sprinkle some crack on it and let's get outa here!"
Dave Chappelle doing his stand-up routine "Killing them softly", nearly 15 years ago. Reference starting at 7.02 min
Still going strong in the Reddit-fora. And in my head.
It gives me a little chuckle that I, a wool loving woman in her forties in some barn in the Netherlands, have these kind of urban references in my head and regard them as part of my identity.
That's the modern age for you.
The "crack" I sprinkled was washing powder, just before chucking it into the washing machine.
Put it on a short cycle at 40 degrees celcius but I didn't let it go to full spin cycle.
It came out great!

(Louet bobbin for scale)(It's a little small)
It's a little bumpy on the back, where it has taken on the shape it was folded in in the machine. Also, you see the white grey hairs of the fleece coming through the brown backing. A sign of thorough felting: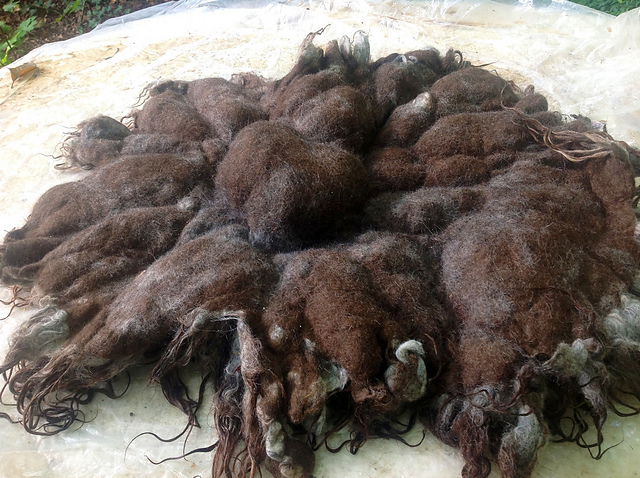 It's also quite stiff = well felted. And it's rather small… it will allow only one person to sit on it.
Such great colours and great locks! The locks are all free, none have been felted in. Yes, it will be a fine piece to put on the couch and sit on. Seat for one person. Me. Or, when I'm not there, the cat. Or. when I am there, the cat. What else is new.