this is my new pie plate showing of yarn in just the same colours!
oooh, how orange puts a spring in my step. (the cloth is my January-sparkly-snow-time-new-plans-clear-mind-cloth. It is draped over my vintage threadle sewing machine that stands before the window/door. In the morning the sun shines through this window and it looks out on a bird bath.)
the yarn is Novita Nalle Marjaretki, a Finnish sportsweight yarn for socks. It has the colours of berries, this is Cloudberry, from the northern lands and full of vitamin C. wiki info
The nice thing is that the skein itself from Finland too. It arrived like this:
I claimed it in the Dutch Karma Swap Group on Ravelry from one of our members who lives in Finland. She send it as a skein because then it fits into an envelope and postage costs are less. It is our habit to send yarn like this. Or hand deliver it at one of our meets.
She also send the sheep key chain and a lovely card that echos the colours of the skein and my spirit of the cabin I live in at the moment. Such a careful hello! We are very close in the group and we truly care for each other.
Have another look at my yarn! I wound it by hand, from my swift around a carton roll. I like it that way, even if it does not make a very neat cake.
I can't wait to knit with it. Even though orange doesn't look very good near my face, it looks excellent on my feet. I like to knit with it. I like to wear it. Yes, orange really makes my day.
The only thing stopping me from casting on right now is that it looks so good on this plate. And that I have some other things on the needles… And that I want to knit another set of fingerless mitts for my aunt the photographer and she might like these colours very much but I want to ask first to be sure. She might prefer a more woolen kind.
Did you notice the things in the back? there's my dpn-tin, it originally held tea and shows orange trees. Trees and orange, what could go wrong? then there's the foot of my owl lamp. It's so tacky and '70s that it becomes 'hyggelig'! There's my sparkly January glass reindeer bulb. I love glass seasonal ornaments, especially nordic ones. And….
a lovely little Jule Elf!
here's a better picture by it's makerIris Francissen from www.glaskralen.eu: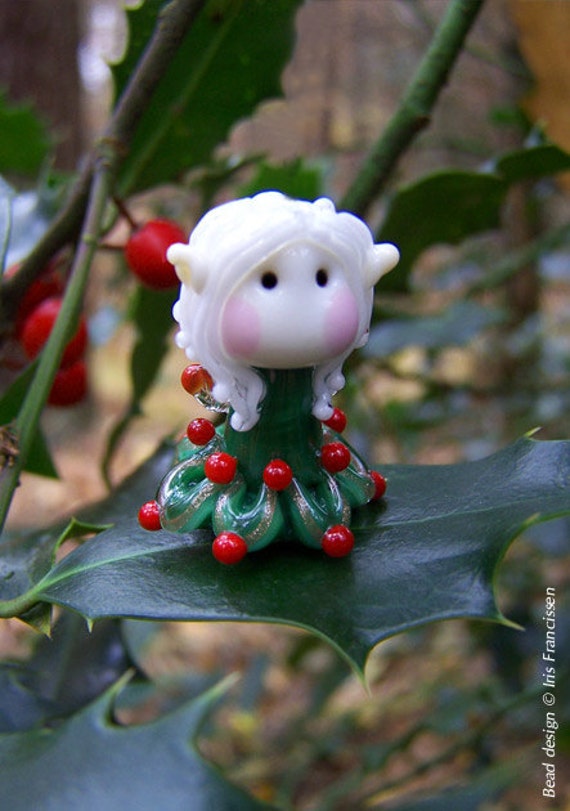 Yes, it is a glass bead from Iris Francissen, an artisan from the Netherlands. She has an etsy shop in English too. She makes glass beads and I think they are marvellous! There are elfs, sea mermaids, baby angels, gothic angels, lucky charms and jewelry. Check it out!
go to Etsy to buy this fairy (25,78 euro/ 33.50 USD)
I have another one, a yellow September flowery girl. It stands next to my bed and makes me smile 🙂