this is the pattern: Yuuret or Roots by Kessa Tay Anlin (link to her blog here)
It's a paid pattern (6 dollars) and this is a well thought out pattern, very worthy to spend money on. Don't share your copy, support the designer.
It's an intelligent pattern. But it is written a bit difficult and with indiosyncratious use of known symbols. "\o/" for instance is not used as "k2tog, YO, ssk". But, as other reviewers said: "Don't try to think, just follow the instructions." Which is just what I need these days and which is very true: all you need to know is there, in the pattern.
Once you read and follow the pattern it knits very well. I'm working it in the Frankengarn 100% wool (click on "Strickwolle") that I dyed blue myself. (link to its ravelry yarn page here) Lovely yarn! Product of nature, from German Merino's. No expensive or filthy shipping from overseas. Not suuuupersoft but soft enough for next to skin wear. It is Merino.
Lofty!
Blue. Not so turkoise as in this picture, it is a proper blue. Dyed with Landscape Dyes Apollo Bay.
I had to knit a bit on different needle sizes to find the right gauge/fabric for me:
I decided on 3,5 mm. This is a DK yarn going on worsted.
I have knitted quite a bit on the pattern already so here are preliminary results:
As I was increasing the ragline for the shoulders and sleeves I noticed my usual problem with raglans: not enough space in the back, too much stitches for the sleeves. I redid it a bit, changing stitches around. In the end I just did what the pattern stated but when the time came to park the stitches for the sleeves I tried the piece on and decided then and there where the sleeves were going to be. Regardless of where the raglines where at that time.
Still the sleeves are huge. I'll have to decrease them intelligently when I start knitting the sleeves otherwise I'll end up with poofy shouldercaps. Which might suit this pattern, come to think of it. But they won't suit me: I've got broad shoulders to begin with.
Now I had noticed my gauge was off. (When is it not?)
Pattern states 16 st/10 cm or 16 st/4 inch and I was doing 13. (While the swatch was at 16. Liar.)
So I knew I had to fudge the pattern a bit. Luckily I could step down from a size M to a size XS which worked on the number of stitches I now had on the needles.
Unfortunately the proportions where off, it was too roomy at the back and I had already forgotten to make the first two double centered decreases there. There's a lot going on simultaneously in this pattern and I'm also having a few bad weeks concentration-wise so I'm not surprised I forgot. (I resort to basics in times like these: check the locks,check the stove. The rest is life garnish.) I just take these things in my stride and adjust future rows.
Unfortunate-the-second was that I wanted the peplum to be at the correct place: at my lower back which was approaching in a mere 20 cm. This meant I had to speed up the slaint with which the cables are flowing to the back. Extra decreases to the rescue.
So I put in the centre back decreases, added some at the side and sped up the cable slaint.
Yesterday evening, right for bed, I connected the two cables in the back. And this is how it looks this morning, fresh out of bed:

(yes bed hair.)(I forgot to brush.)(It's called Coupe Garnish.)
It is too tight. It is too high.
I learned an important thing about this pattern: when the sped up cable slaint begins it makes the cable nearly go horizontal. And cables tighten knitting.
It still looks good, I know, I've got a real Heidi-the-girl-from-the-mountains going on here.
But I would like this cardigan to close a bit at the front. I like a bit of warmth when making something out of wool. And I would love to use some lovely clasps like these beauties: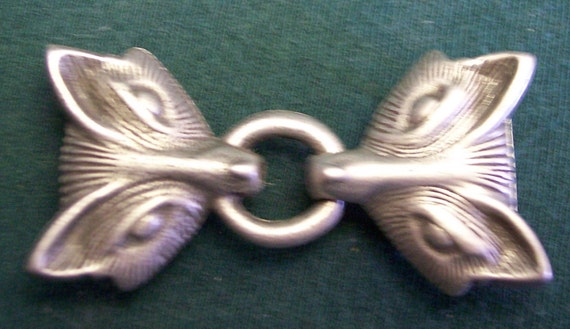 OOOH! AAAH! made and sold by Joan Menter of American Pewter Works
It's SUCH a pity he only ships within the USA…and that I need 3 of these clasps which at 14 euro's a piece runs a bit expensive. But oh how I love them…they fit in so beautifully with the woodland elfen blood that seems to run through my veins. Which reminds me: the squirrel is back!! Saw him yesterday and the day before!
Anyway. Now that I understand the pattern better I'll be ripping back right to where I started to decrease the roomy back. Yes, that will be barely two rows after the sleeves separated. Again I will not start the slainting cable before it has reached the apex because I like it to flow backwards under my breasts.
Somehow I don't mind ripping and redoing this. It is lovely yarn. It is a lovely pattern. When I knit it right it will be a lovely garment that I will wear often. The only regret I have is that I do not need this pattern in every colour, just as I understand this pattern and would love to knit it again and again. It is so distinctive that one in this style is enough. Do you agree?