I confess, I've fallen down the rabbit hole of spindle spinning.
I've got the Enid Ashcroft turkish spindle. It's small and that means it spins fast. I love it! It's a Midge, 13 grams.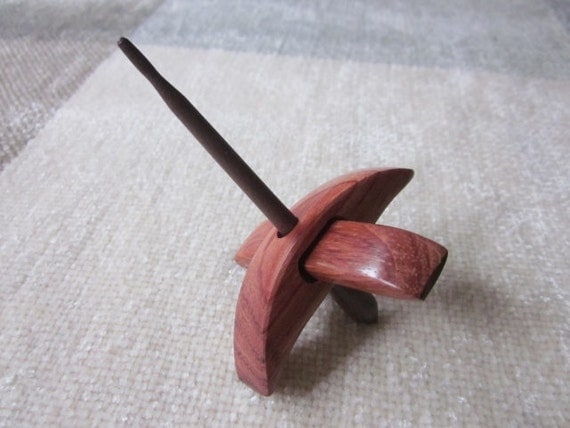 pic by Enid Ashcroft
Besides this one I've got two top whorl drop spindles made from a dowel with a toy wheel on top. They spin fast too, faster than spindles with the wheels at the bottom.
But they don't spin long…

They are lovely to spin "rustic" yarn with. From fun batts, standing or walking on wool gatherings or in the garden. In fun colours.
Especially colours that match the spindles, that makes it extra fun! Giggling while spinning? It's the best!
But for expert spinning I crave more turkish spindles. But I don't want to spend money on commercial spindles (they are expensive!). So I made one myself. I used this tutorial.
I carved it from a little oak tree in my garden:
It's really small. I purposely made it with short "legs" so it spins fast. It does!
You can see a turtle from the Enid Ashcroft turkish spindle in the back, to get an idea of the size of this one. It's about the size of a Midge.
It's quite good, for a first handmade one.
But it will take a little disassembling once it's full.
I'm looking to make another one who disassembles more easily. For that I split some old, dried oak length wise. You can see the parts lying there.
They need a hole drilled in the middle to put the shaft in. (The drill is in the city). The shaft will grow smaller towards the top.
Both spindles are carved with my wood knive, a Norwegian spike knive.
I love wood carving. I don't like wood turning much. Nor sanding it down.
The guy who taught me to carve an Inuit Kayak with just a wood knive explained that sanding down is the very last step, if done at all. After sanding you should not use your knive again since the residue of the sanding paper will make your knive dull.
Good tools and fun displays are important in life: