You know my sheep mug:

I use it every day, either at the cabin or in the city. I have one at both locations.
They were given to me by a friend who lives in Lüneburg, Germany:

That's Germany in yellow. In grey are the Netherlands, to the left of Germany. To the north is just a bit Denmark. Upper right, under the Baltic Sea, is Poland. Czech Republic underneath it. (we're now at the grey country in the middle, right of Germany.)
Right lower border shows Austria. In the middle, under Germany, is Switzerland. Left lower border is France. The little country shown in grey at the left is Luxembourg and to the left of that is Belgium. Then we're back at left upper corner with the Netherlands again. The blue in left upper corner is the North Sea.
Lüneburg is a beautiful city, chuck full of history and fairytales and culture. I've been there once, in winter, it was magical.
There's an impressive heath nearby where a flock of sheep live with their shepherd. They're moorland sheep of the German breed Heidschnucke:

This looks just like the picture on my mug! The heath in bloom and with those weird long trees.
Heidschnuck sheep is a very handsome breed. And also intelligent. Beautiful ewe:
Heid = heide = heath and Schnucke = candy. Sweet heath-candy sheep 🙂
My mug supports the flock at Lüneburger Heath.
I've had it for years. For as long as I knit, I think…
it was one of the first "knittery" gifts I ever received. Oh, I love this mug! It's big, it has green on it, it was a gift given at a time I was low on energy and happiness, it reminds me of Lüneburg and my friend and it's a knitter's mug.
Right before Advent the mug in the city fell to the floor and shattered 😦
I had to do a lot of internet wizardry to find a suitable replacement and this is it:


from a husband and wife team in Bulgaria: Miglena & Miroslav from MMceramicdesign at Etsy.com
A knitter's mug has to meet a few requirements:
– it needs to hold half a liter of tea (14 to 17 ounces of fluid)
– it must have a handle (we say "ear")
– it must be higher than wide (I often forget I have tea, it mustn't cool in a hurry)
– I prefer it to be handmade and directly support the creator
– I love porcelain, more than stoneware
– I love thick glaze
– I like particular colours
– I don't like comically drawn sheep
– I can't go out and visit ceramic artists and look for a mug, I'm still house bound. So internet shopping it is.
– if purchased outside of Europe it must cost less than 24 euros (26 USD) otherwise I'll have to pay a ridiculous amount of import costs
– I don't trust a handmade mug that costs 24 euro or less, handmades ought to get a fair price
This was the only one to fit the bill. The only one in the whole wide world! Or so it seemed to me, after days of growing a set of screen shaped eyes.
It's not particularly knitterly but Cat Lady is a close second to Knitter and it met all the other requirements so I'm well pleased.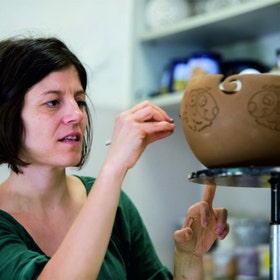 It's part of a line of handmade ceramics by a husband and wife company in Bulgaria. It's well made as judged by Lieneke from Wolop who has a degree in ceramics. The shape keeps the tea hot. It holds 500 ml easily. It's green, handmade and has a cat.
I like it!
They even do yarn bowls!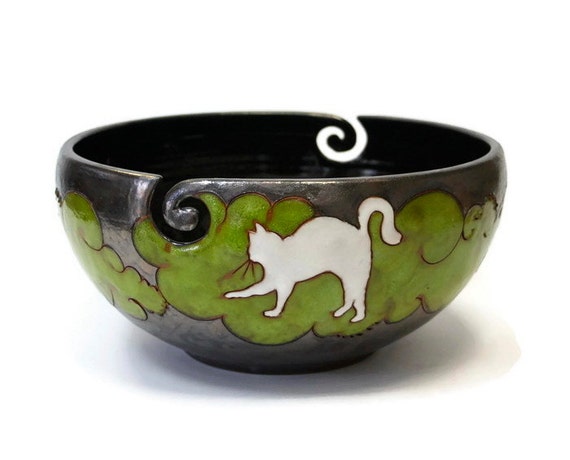 And sheep mugs: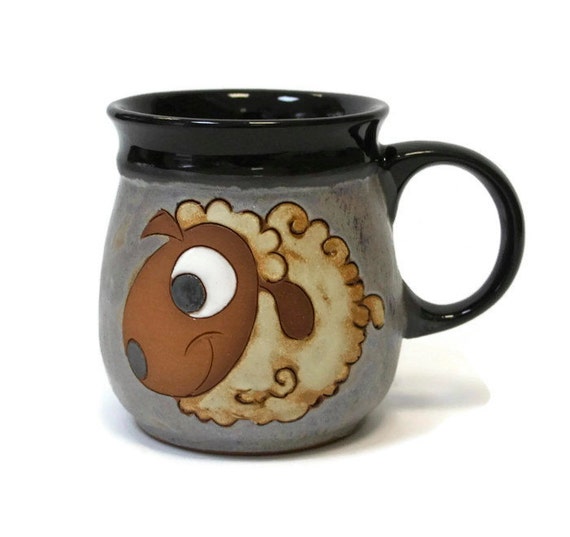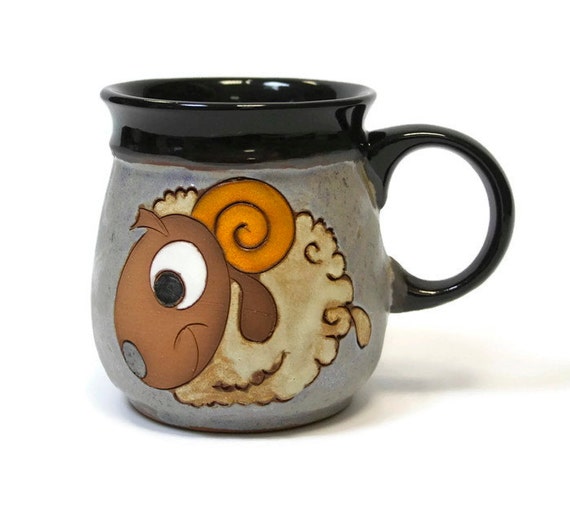 Comical sheep….
I'll keep searching for another mug. A knitter should have more than one mug I feel. For when another knitter comes to visit. And for when you are in a different mood. Or for when I feel more of a spinner than a knitter.
I have one other good mug. It's not knitterly at all but I love it. It's my Winter mug:

It's a cheapo mug from a cheapo store but it's big, brown and festive! (oh look at my scrawny claw hand in that photo! That's my inner witch peeking out, I suppose. I DO have fairytales on the mind these days…)
At Sinterklaas Wolop got a beautiful knitter's mug from Starbucks. A proper knitter's mug!

Ooooohooooo!
A cat with a golden collar, playing with green yarn. Lots of volume. High mug. Porcelain, I believe. What a beauty!
I wanted to steal it. Very much.
I didn't steal it.
Now my New Years Resolution is to steal less (I love resolutions that don't require any change of behaviour but still give cause to self congratulations) and to go out of the house and meet ceramic artists in real life instead of online. See their products. Find myself another knitter's mug.
There are some ceramic fairs throughout the year and in 2016 I plan to visit at least one of them. There's one in Gouda, the city where Lieneke lives. Gouda is traditionally known for it's ceramics. And cheese. I wonder if it shows functional ceramics or more arty statement things.
There's another fair in a piece of grassland in the north of the most southern province, Limburg. Someone in the know will enlighten me.
Here's another knitters' or spinners' mug I once had:


(I gave it away. I saw straight away that it's too wide to keep my tea hot for the time it takes me to remember I made a cup.)
So there we are. One new knitter's mug and some beautiful New Year Resolutions. Congratulations all around!