It's the Visjö hat in progress.
The pattern is Simply Harika, then a band with a Running Hare chart I designed myself, two Latvian braids and on top the beautiful pattern of hat Selbu Modern.

Selbu Modern
 by Kate Gagnon Osborn
The Visjö yarn is such a delight! Sportsweight so more substantial than the Holst Garn Noble (which I haven't knit with yet…. it was queued for a sophisticated city hat but it seems I'm more at ease with a sportsweight kinda silly sophisticated city hat).
The yarn is so soft. It hasn't even been washed, I expect it to soften up even more.
The stranded part is soft and warm, excellent to cover my ears.
I have ordered a sweater's worth of yarn from Lidaholm.nl…. She has a special offer going on at the moment. And I know I will love knitting with this yarn!
A good intention for the new year, knitting a jumper in light green and white, with accents in pink and grey.
It's a promise of light colours that is very fitting for today, the 21st of December, when light and dark make a pivotal turn in their eternal dance together.
Hares go with light and dark. They are traditionally associated with the moon and they leave their foot prints all over the earth in winter.
Earth's midwinterdream, by artist Wendy Andrew


ooh, less than 4 euros/ 5 dollars for a card of 15×15 cm (6″ x 6″)?
Shipping included. I'm ordering.
A warm Midwinter hug to you today: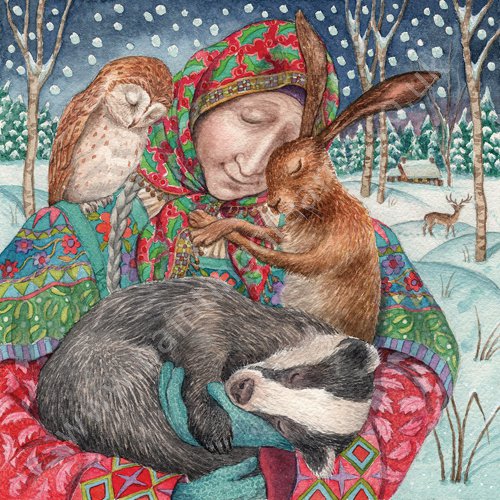 card by Wendy Andrew
UPDATE: I've ordered the book Luna Moon Hare. Wonderful drawings!
I'm very fond of hares. They live in the fields around the cabin and there's one special individual that lives in the woods right besides us. (S)he knows us and hurries out of sight away slowly when we come near.
I often see him strolling past when I look out the window. I love watching him. When I'm about I see the little dents in the soil where he rests for hours. (S)he's our cohabitant.
My yellow tea pot features the moon and the hare. It's yellow like the moon and the little cups (not in picture) have a white inside with a swirl (cloud) and a hare.
I bought it once, a long time ago, at the Little Japanese Shop in Amsterdam. A pity I have it at the cabin now… I've got hares on the mind and drinking tea from a moon hare tea pot would be just the thing.