I've participated in another swap, de Decemberzegelswap.
In the Netherlands we have slightly discounted post stamps for the month of December, specially meant for x-mas cards:
Which the Dutch Karma Swap Group took as an invitation to send out cards with a little knitterly embellishment to a fellow swapper.
This this is the one I received yesterday evening (not that the post is delivered on Sundays but it was delivered to the neighbours while we were at the cabin and we didn't see them until last night):
Miniskeins in a gorgeous colour palette! Misty, silvery greens!
In all new-to-me yarn brands, except for the Wollmeise. And a darling card with the squirrel Beatrix Potter drew 🙂
Collected and send by Little Wolf Yarns: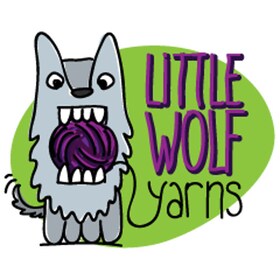 Who invented this swap last year! She's brilliant.
The miniskeins and the card made me want to cast on for something stranded right then and there!
But it's a good idea to wait for the morning light to see clearly how colours interact.
So I spend the evening browsing stranded patterns and I decided upon Fair Isle Cuffs by Julie Williams, a free pattern.
This morning:
Main colours on the left. To the left are colours for background and/or extra contrast.
On the screen one of the projects for the pattern that inspires me much, colourwise. There is another project that added extra colours to the centre of each pattern. These two projects will be helpful for mine.
Ah and there's also my lovely little pincushion with the fox on the table. It always is near where I craft. I received in the Decemberzegelswap last year! From SylS who recently dazzled the internet with these crocheted owls:
the pattern started as Fat Little Owl African Flower by Heidi Bears and SylS has perfected it.
Back to stranded knitting: on my stranded Advent socks I noticed that where the round changes, a little jog emerges. The flow of the knitting is interrupted:

Online I've found this tutorial to avoid the jog when you're knitting stripes: after you've knitted one round with the new colour, knit the first stitch of that first row together with it's mother-stitch.
I don't have a solution yet for fair isle patterns that jog with row changes. Experienced knitters seems to just accept it as a part of stranded knitting. I'm cool with that. Casting on now.
By the way, the designer of the Fair Isle Cuffs pattern, Julie Williams, is the writer of Little Cotton Rabbits, one of the blogs I follow. What a coincidence, it's such a heart warming blog, with tranquil colours. It's about knitting and living with an autistic son, Toby, who in 2015 had a relatively stress free hair cut for the first time in many many years and who is very happy with his new look.
As a designer she specializes in patterns for cuddly knitted animals and their complete wardrobes:
two more thoughts on the stranded project: why does the pattern ask to cast on 66 stitches when the ribbing pattern repeat is 4 stitches and some of the patterns are too?
I don't know yet. Perhaps 64 is not enough. Perhaps we shouldn't aim for a perfect multiply of pattern repeats as it helps with the jog to have extra stitches.
And two: Stranded knitting using sock yarn is not "the right way" because sock yarn is a round yarn. Better to use a 2 ply woolen yarn, such as a Shetland yarn or an Estonian yarn. Then the stitches will merge a bit and this will aid the visual coherency, they won't stand out as single v's.
"The right way" would be to use these beautiful miniskeins for stranding in socks, where the sock yarn with its nylon content and washability has proper functionality. But I want these colours near my eyes, where I see them often. Ergo: on my wrists.
I promise I'll use them often so I get full profit of the wearability and washability of sock yarns.
UPDATE Ravelry is unreachable, because our provider Ziggo is too skimpy to pay for a good connection across the Atlantic and its owner UPS is too hard headed to honour a preexisting free peer agreement. So I'm writing my project notes here, to be transferred to my project page on a later day:
– couldn't do it, ribbing that wasn't a neat repeat of 4. Fudged two extra stitches and am now working on 68 st. Will reduce to 66 when pattern repeats need it.
– errr….forgot the other thing…. Argh.
UPS and Ziggo are a bad lot!
UPDATE 2
ah. as soon as I pick up my knitting I remember what I wanted to note:
– I keep the yarn for the purl stitches over my left hand. Knit goes over right. Right hand flicks, left hand knits Continental Combined.
UPDATE 3
– my two colours for the ribbing are close together, Fabel sock yarn in white and Wolbeest Glittersok from my Midwintersokken. If there was to be a starker contrast I'd add one row of all knits (but 2 x 2 stranded) to the cast on before the currogated ribbing. To avoid the different coloured horizontal bit at the foot of the first purl row.
UPDATE 4
– working hard. Would love to have the ribbing done before the natural light fades, I want to knit with the miniskeins.
knitknitknit