I'm doing a testknit for designer Carolyn Macpherson.
The design is a shawl called I Believe and here's her version in the colour that symbolizes autism:

pic by CarolynMac
What an interesting design, with that lace cabling. It caught my eye and reminded me of something:
 pic by Autism Canada.org
When I read the inspiration for this design I contacted Carolyn to ask if I could one of the testknitters please.
In her own words: "I was inspired to create this shawl by Autism Canada's campaign for Worldwide Autism Awareness Day, April 2nd, 2016. Not a visible disability, the Autistic Spectrum is staggeringly diverse and the number of children and adults affected by ASD is growing yearly.
Both of my children are severely Autistic and we struggle everyday to find help. This shawl symbolizes hope, and the strength of the many to believe and help each individual along the way. While blue is the predominant colour for Autism Awareness (and a symbol for hope), this shawl could easily and equally represent any cause you hold dear."
The deadline for this testknit is 2 April: worldwide Autism Awareness Day, installed by the United Nations. Here are four autism sites important to the designer:
Autism is dear to my heart. Many of my Ravelry knitter friends have autistic children or are on the spectrum themselves. For all of them, living with autism includes a daily struggle to get the understanding and connection they need from the people they meet. Regular people like friends and neighbours but also the health, council or education professionals who are involved in their lives. Every one of those knitters has to educate pretty much all of the people they ever meet, about autism. More awareness is very welcome.
One of my friends does both, she fights the personal fight AND she's a public advocate for autism awareness here in the Netherlands.
And she used to dye yarns.
I'm therefor very happy to knit the I Believe shawl in Dutch Knitting Design's yarn base Madelief in a one of a kind colourway:
This is how far I am at the moment:
Glorious colours! Great design!
The yarn is so soft and smooth… it's 100% silk, fingering weight, 400 m to the 100 grams. It's both cool and warm, whatever you want it to be. A welcome trait for people who enjoy non-intrusive materials.
It's made up of numerous thin strands. This insures that the yarn will not pill and retain it's luster once it's knit:


How many strands are there, 12? I do have a tendency to poke my needle into the yarn and split it when I knit.
There's a split stitch here, at my fingertip:

I've started to drop all the stitches in this column. It's even a column with one of the cable-details in it! Just working slowly and reading the knitting I'll drop down, repair the stitch and then work my way up again.
Here it is after the repair:

Pointing to where the split stitch was.
O my, those colours!
I chose the combination of a 100% silk yarn and the stockinette stitch variation of the I Believe shawl. Stockinette will curl but since silk doesn't have the elastic memory that wool has I'm curious to see whether it will lay flat after blocking.
Dutch Knitting Design stopped dyeing and selling yarns a few years ago. She's now a knitting pattern designer and she makes crocheted jewellery: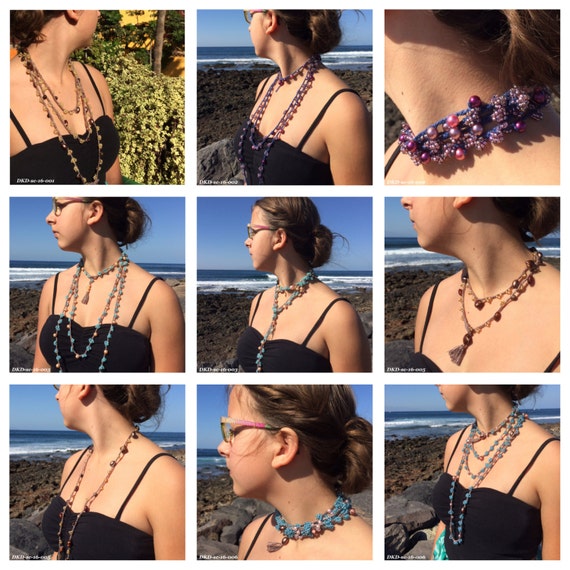 Still using high quality silk in gorgeous colours. Devoting more time then ever to educating the council and education professionals about autism.
These are the Dutch Autism sites. They've chosen to focus on sports for Autism Awareness day, April the second, and the whole week that surrounds it:
All colours welcome.