These two pictures are permanent on my desk top:
I don't remember where I got the first one from but the second one is a Moebius Cowl by Cat Bordhi, knit by Csteekjes for her cat Genki.
I love the expression of bliss on their little faces! These pictures make me happy 🙂
Because I may have a thing for cats in cowls this came in the mail today:
A felt creation by Amuru on Etsy.
It's a little pocket friend. To carry with you, as a secret supporter when you have to face the world.
We're not the best of friends yet…because I don't like its cowl. It's a piece of cut off knitwear, no cast on, no bind off, and it's sewn together. Handsewn though, so that's love.

As a knitter, I would like any cat to have a handknit cowl.
I also think its crocheted flower is too brightly coloured to my taste and compared to the shop example: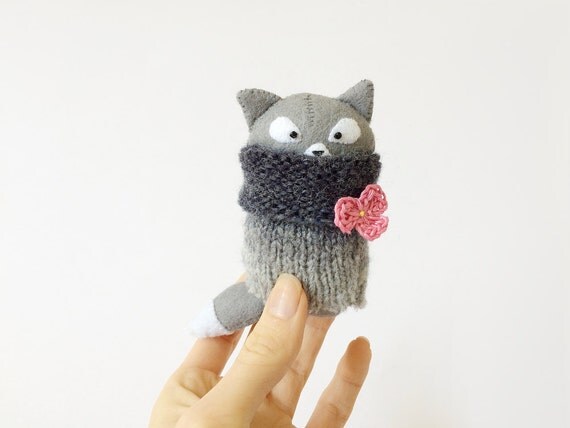 Such beautiful, tranquil colours! Just like the colour palette that makes me happy at the moment.
My felt cat has a hot pink flower and much blue in its cowl. The contrast between these two is not very tranquil and it distracts me from its lovely face…
This is all a matter of personal preference of course plus limited resources of the creator (she reuses knit fabric) plus monitor display. So I confess readily to being nitpicky and perfectionist.
That's why my complaints should not be taken too seriously.
That's also why my compliments on the other hand weigh heavily: The cat is very well made and I'm impressed how Amuru manages to repeat the same cat over and over, of equal quality. My cat looks exactly as the example, same expression.
I specifically researched this skill because I'm always weary when a seller uses the same picture for multiple items. Luckily some people who bought one of her foxes showed their picture and it looked exactly like the shop example. Shop picture and received item: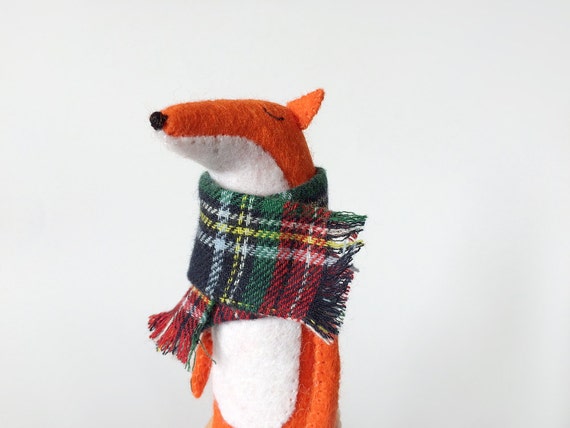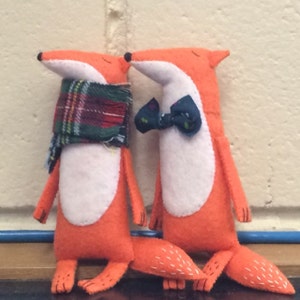 That's truely skilfull artisanship and this gave me the confidence to order.
Of course I'm thinking of knitting a new cowl for my new friend. As a knitter, how could I not? And with those lovely examples on my desktop.
Upside down back to front?
But I love the gradient in grey in the cowl it has and it's made of a nice soft yarn. I won't be able to find or make anything comparable. If I knit it another cowl it will have to be different and not refer to this one in any way because it will fall short. That means no handknit gradient soft grey cowl for my kitty…
So I'm playing with this one. Seeing if I can find another way to make it work for me.
Perhaps as a cat bed?