This is my new WIP bag, a creation by professional seamstress Dolle Griet, via her Etsyshop. In it is Bines Sock which only needs a cuff.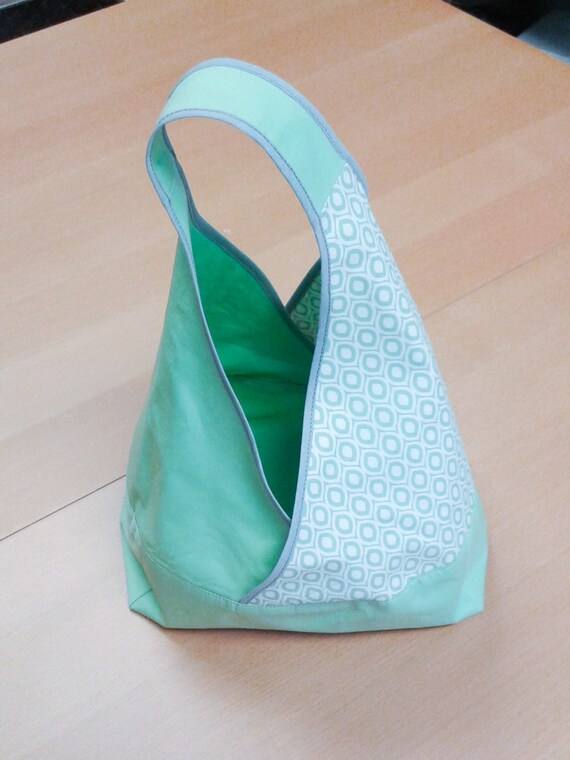 pic by Dolle Griet
I'm savouring the cuff for the car ride home to the city. Knitting is planning!
I also tried to sew a WIP bag myself. A different model. An easier model! It features owls from a towel from the Ulster Weavers, a UK family business based in Hollywood, Northern Ireland. We bought a towel from them on the last holiday we were on, to Ireland in 2013. I've been hacking up the towel into a bag for my hot water-bottle and now this WIP bag.
For the closure I needed a button and I remembered I had the perfect one un the cabin:

It's a cat on a handpainted ceramic button by Maria.quinn (facebookpage). Also bought on the same trip to Ireland in 2013, in a yarn shop in the centre of Dublin.
Now I will bring it all with me to the city. I plan to embroider an owl in the white space between the owls. Or perhaps a cat in an owl-disguise!

But first we have a weekend at the cabin. Mr Marvel is outside, mowing the meadow (all young trees are sprouting with this beautiful weather). Ew! I've just been informed he mowed through an deceased toad… eww. (He's very considerate of living toads and frogs, scaring them away before firing up the strimmer.)
I will go outside shortly too. There's a load of washing to be put onto the washing lines we strung between the trees here. And then there's felting to be done on the Gottland feet warmer.
Tomorrow we're visiting the annual Apple Day in a small hamlet to the east of us. This time I won't go dressed like a knitting fool like I did in 2014:
That's me, not picking up on subtle hints. Sigh.
I'm looking forward to the apple fun tomorrow. The apples on our own trees are not ready yet. Except for the Lemoen of which we had ONE this year. The first one after we planted the trees 10 years ago. It needs a while to grow.
 Lemoen apple, pic from applegardenid.co.uk
Lemoen (no spelling error) is a variety akin to Rode van Boskoop or Goudrenet. It's another breed a famous notary from the province of Gelderland invented back in the ninetheeth century. Notary Van den Ham really was an apple-man! He advocated the theory that new apple breeds should be grown from seeds, not merely oculating existing root systems. (Don't know the proper terms in English, it's 'enten' and 'oculeren' in Dutch).(eta: "grafting" is the English word for "enten".)
He also founded the first imker-society of the Netherlands. But really his boyhood dream was to sail the seven seas. His first voyage gave him a hero's welcome at home. His second voyage made him step ashore for good and study for notary and follow his interests in fruit. Four of his apple breeds are now famous: Lemoen; Notarisappel (I bet you can read this); Luntersche Pippeling and Oranjeappel. (More info on this man, in Dutch)
Notarisappel, Goudrenet
I think Lemoen superior to Goudrenet which is why we planted the trees. It's an early apple which only lasts the month of September. You can hardly get it anywhere but organic farm 't Aailand ("the Petting land"?) sells some each year at the organic farmers market in Den Bosch on Friday mornings. Which is where I tasted it the first time and where I still buy them each year. I brought some with me to the cabin, for warmed apple chunks and to put on pancakes.
Tomorrow I'll be taking my new WIP bag from Dolle Griet to the Apple Day, the bag hangs so well from the wrist and has the perfect colours. Only what project to put into it? Can't do the Bines cuff yet. Will it hold the Grey Flinders vest I brought with me? Oh. I can put apples in it of course! I wonder what breeds they have tomorrow.