It's xmas day. We spend the day watching movies, cuddling the cats and knitting. I finished a shawlette I started only yesterday:

This shawl I knit in exactly 11 hours. It's
25 cm wide and 190 cm long and made from my own handspun: the Passe-partout Merino Silk mix I spun during Tour de Fleece last Summer.

 I took out some of the darker parts as I wanted a light coloured yarn. It's soft enough to wear around the neck. That's Merino Silk for you. I need soft things (yarn and fibre) to wear around my neck. I've been wearing my Nurmilintu all the time but by now the yarn (Merino with nylon nepps) is starting to irritate my skin.
Merino Silk would be ideal. I like the look of stockinette stitch and this pattern uses its tendency to roll.
The pattern is Pip by Mona Schmidt and it states that blocking is not necessary as it favourites a rustic look. I prefer a neater look, the handspun provides character enough already, so I will block it once I'm at the cabin again. (the centrifuge is there)
In the mean time I'm wearing it and I really like it! I think I'll knit more like these. It's a great mindless knit and a good use of luxury handspun.
Now have a look at the xmas surprise that arrived:

It's Lilleroco!
A pattern by Lalylala: Roco the racoon. Crocheted by my very talented neighbour in Scheepjes Stonewashed yarn. In Lillepoes colours of my design.
A great finished object! It's about the one doll that I find not creepy and the way my friend executed it is amazing. So much handmade love and skill!

This was the rest of our day: Beef Wellington and Rene Russo in Lethal Weapon 3:


We also saw Lethal Weapon 1 and 2 partly. The scenery and hair and women roles were hilarious. Lethal Weapon 3 has always been my favourite but nowaday the charm of Martin Riggs has worn off.
Still very fun to watch. And to say the lines before they come. Delores Hall is iconic!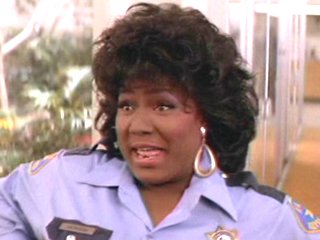 "Oooh sugar!"