I am going to finish all my WIPs.
I am going to knit from stash.
I want my stash to fit in two boxes instead of two rooms. (ahum! cough*two houses*cough)
This is my outfit for today:


A handsewn dress, my Pumkin Ale cardigan in Wollmeise Mauseschwanzchen. Wristwarmers and my slouchy hat in quality sock yarn. Bines sock at my feet and the legwarmers from Latvia. The lace shawl is a Boo knits (my Temptress) with big heavy crystal beads and knit in 100% silk.
Oh how I love silk for lacy shawls!
And how I love cardigans that drape! This Pumpkin Ale is my favourite cardigan at the moment. So stylish! Mine serves the curve in the small of my back to well:
Yes, a cardigan in a thinner yarn such as sport or fingering weight. (300 to 420 m per 100 grams). That's why I've started a cardigan, in sportsweight. I need a grey one for my palette:
The pattern is Serra by Laura Aylor, a paid for pattern that follows Barbara G. Walker's recipe for a seamless top-down cardigan with set in sleeves. It's from her book Knitting from the Top, published in 1972. Ravelry entry here.
Colors of Kauai by Hanna Maciejewska follows the same recipe.
My new cardigan is knit from stash in a mid grey sportsweight: Lana Grossa Cool Wool Merino Superfein. It's going to get a shawl collar.
I also want to knit another Pumpkin Ale. And another Old Town cardi. And Danshui by Yellowcosmo. And something with a saddle shoulder, perhaps in a contigious technique such as Grand Coquelicot by Hel et Zel. This one has an intriguing shoulderdetail and has been in my queue for years: Cyouchin Sleeve Cardigan by Syuri Sumomo. And how about this one, from the same designer as Cool Wool Serra and my Devonshire Cream Cowl (which I seem to have misplaced?!):
Stillwater by Laura Aylor and my Devonshire Cream Cowl.
Oh how I love top down cardigans!
With set in sleeves.
In thin, round yarns in which you can knit a cable or something.
It's the second week of January. And this happened. A 2,5 kilo stash enhancement:
In fingering and sportsweight undyed yarns. Some of them silk.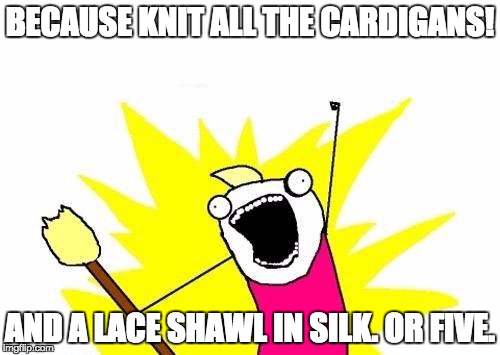 The silk isn't even the kind of yarn I want for a shawl. So I'll probably have to weave with it. And buy other silk lace for shawls.