These are my handknit socks:


These are about half the pair I own. These are The Fancy Ones. The others are at the cabin, the are The Funny Ones.
This is one shelf in my big book case. It's in the front room, next to the coats and bags and shoes. These are a lot of socks. I have way more socks than I have shoes.
So please tell me why I am waiting impatiently for the new Sock Madness sock pattern to drop? It can be published any moment today! I'm checking my mail every minute.
And then please tell me why I have cast on two socks in the mean time?
One is Music Maker by Vera Thoben, a nice slip stitch colour sock with a heel inspired by the qualification sock for SM 11:

 pic by V. Thoben
This is an excellent pattern for using variegated yarn. It is very very fast compared to the Twisted Madness pattern. And it's free.
my project in evening lamp light:

The other one is the Mystery Sock for April for the Dutch sock knitting group on Ravely: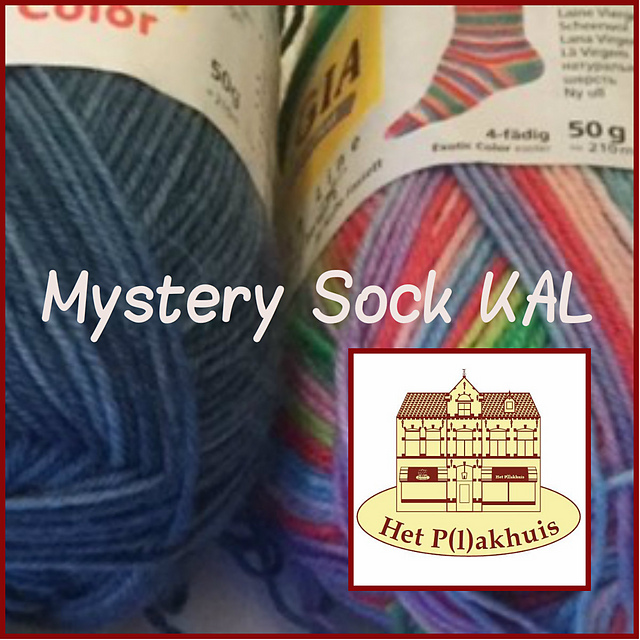 Streepje anders by Heleen Kok. The pattern is in English, the title means "A different kind of little stripe". It's excellent for variegated, selfstriping or a gradient yarn.
My take on it with two semi-solids:


(I'm doing a modified version, with a shorter leg.) I knit this this morning. This too is a colour pattern with slipped stitches. The rows fly by!
And there's still the mustard and grey striped pair on which I'm working:


This one is finished, a plain striped mate is already on the needles. Good for car knitting.
And the finished Dropped Madness socks are lingering beside my knitting chair, they are getting a shorter heel and a rounder toe. Half of them are done. Besides them is my ball of plant dyed Wolop yarn filled with presents with a cuff already on the needles. And on top of the little desk lies the striped Harry Potter yarn I'm really want to get started on.
Please tell me once more how many feet do I have?
(But please don't tell me about how many cardigans I have on the needles at the moment!)