So I'm knitting the mystery knit-a-long in the Dutch sock knitting group on Ravelry. It's the design by HeleenK: Streepje anders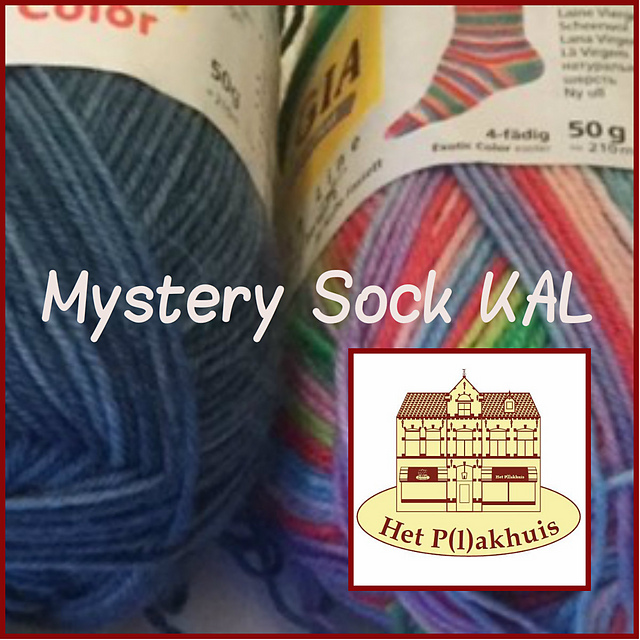 It turns out to be a wonderful stripey sock which looks nice in many different yarns.
From the start I knew I wanted to do a version with shorter legs, because I want these to be socks for Summer. With their nice berry colours:
I did only half of the leg charts but I didn't dare to show in the KALthread were everybody was so enthousiastic and following every clue to the lettre as it was being revealed. The designer was so happy with everyones pictures. How could I show mine, butchering her design?
But she's such a nice woman and it felt weird not showing my progress when they all had seen my cast on post and I did try to maintain the intent of her design so I dared to post a picture, very apologeticly. It feels so intrusive, to alter someone else's design, especially when it's so new and part of it is still a mystery.
A leg half as high as the pattern states:
HeleenK responded in an awesome way! She said that she views it as a compliment when knitters make her design their own. It means something in the design resonates with them and they delve in and commit themselves to the thing behind the design. The motivation? The base?
She loves seeing both the actual design knitted and variations of it. Shows again how limited I am in percepting reality. It comes in way more varieties than I can imagine!
When I started the foot and didn't enjoy the slip stitch pattern in the design much (I'm tired, I need something that doesn't throw me off rhythm) I dared to frog it and substitute with stripes of my own, that go with the pattern (I hope) and I will show HeleenK without hesitation:
And I learned another new heel: the riverbed heel:
(heelflap on the left, toes on the right of the picture)
I did a long heelflap to accommodate my high instep.
The second sock has a heelflap too. It's a nice, relaxing knit now, the feet.