Pattern Streepje anders by Heleen Kok with modifications.
Today I finished one toe and a whole foot (plus its toe) as I took the whole day for resting and knitting after a wonderful yarn party yesterday.
At the party there was yarn and knitting and spinning and weaving and cake and bonbons and pie and quiche and taco's and cats and "Bossche Bollen" and cat tea mugs and lots of handknit socks!

One girl brought these stitchmarkers that she makes professionally. She made these especially for the birthday girl:


Those are chocolate, a cookie and Bossche Bollen. With a bite out of them! The birthday girl LOVES Bossche Bollen, usually when I go visit her I have to bring some, so this was a perfect gift.
These are very well made too. It will be a happy day when the maker decides to open her online shop 🙂
Another girl, Meilindis, brought her loom! That's a new one for me, someone chatting and weaving at a party. Go check out the wonderful patterns she can make on a rigid heddle on her site Meilindis.nl (it's in English).


It was great seeing her work and she explained a lot. If you have extra heddles you can do all kinds of patterns on a rigid heddle, just as if it was a loom with "schachten" (don't know the English word. What people consider to be "a real loom".)
She dazzled me with her colour handling and I learned a bit how a weaver can manipulate colours. Soothe them, ease them, shift them. Meilindis has a special knack for this!
(I do not. I somehow lack the imagination or the courage for it, to combine "strange" colours. It was funny to discover this "handicap" of mine. It made it much more marvellous to see Meilindis combine an try out colours with such ease and wit! But I think I may have confounded her a bit with my squeals and boggling eyes and compliments 😉 )
The birthday girl is just as fond of big cat mugs as I am:


The one on the right is my present to her!
Here are better pictures by the maker: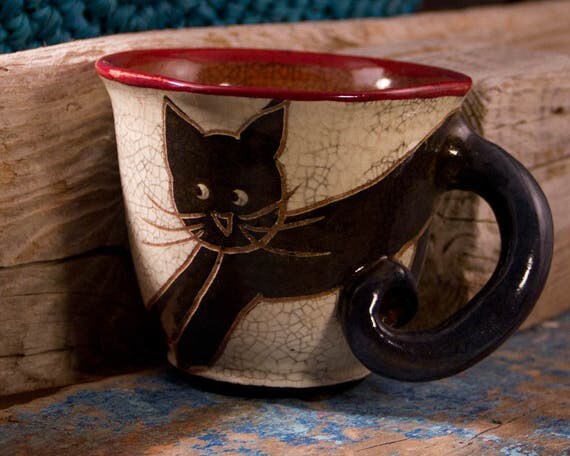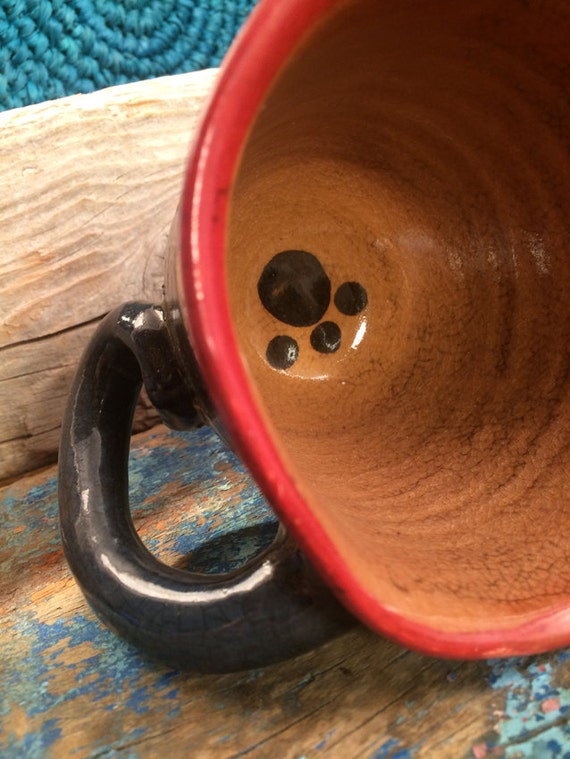 It's an handmade mug from Budapest artist Brigitta Bondar who has an Etsyshop ARTushkashop as well as a brick & mortar shop in the centre of Budapest. Near the trainstation or centre square I believe. She's also on Facebook, in English.
Brigitta is a wonderful artist and was very fast en precise in communicating with me and then shipping fast and securely.
ARTushka also has this sheep mug in her Etsy shop: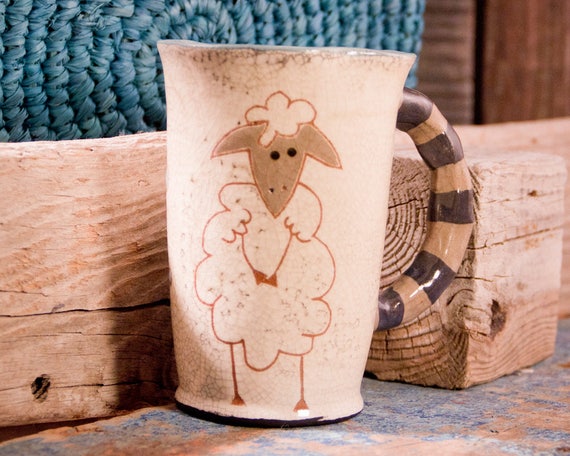 pic by ARTushka
and more sheep in the Budapest shop:

pic by ARTushka
The birthday girl is not allowed to keep sheep in her house so she settles for cats. This is wonderful Suus, a fairly young rescue who is so friendly and curious:


There were a lot of cat ladies at the party and Suus was adored!
Equally adored was cat Sproet who came down from the bedroom for a visit. Sproet is old and blind but made the rounds and found his way, using his whiskers.
An afternoon with yarnwomen, tea cats, real cats, cake and chocolate, made for a wonderful party 🙂