Tomorrow the very last round of this year's Sockmadness starts. At 11 o'clock in the morning in New York time the pattern will be released, that will be about 5 o'clock in the sun filled afternoon in Europe.


Every team has one last knitter standing and these will compete against each other. We think the winner will knit 24/7 and will have a pair finished in maybe as fast as 10 hours. This is ridiculously fast! The average time for knitting a pair of fairly uneventful socks is 14 days for normal people.
The team member in my team Nattier Markhor who is still competing is Puppymancer. She's a chemistry teacher and loves puppies. Add to that that a Markhor is some sort of stubborn goat and you'll apreciate the pictures I found to cheer her on with tomorrow in the team thread:
"Distill the meaning of the pattern!"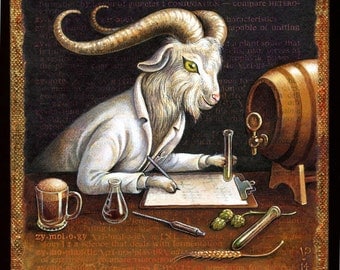 "Make sure to tighten those stitches!"

A month ago I knew I'd run my race when Sock Madness pattern Symphony came out. Being a pattern with lots of twisted stitches my rsi would flare up and I had to be sensible. It wasn't fun, giving up, but after a few days moping I returned to the team thread to cheer them on. Also the Dutch SockMadness thread has been fun to read.
Being out of the competition meant I didn't HAVE to knit the competition patterns that were released. And I didn't. I had too much fun returning to the vests and cardigans I'd been knitting before the Sock Madness started. Not to mention the plant dyeing and flower printing and that lovely day of spinning at the Sheep Shearing Festival.
These are the patterns from the last few rounds:
round 6, the last round, Pentoeminoes by Mylene Pijpers:


This sock features intarsia in blocks of five squares which are called pentominoes. I've never done this technique in a consistent way. I have not knit this sock.
This is round 5, Honey and Clover by Natalia Vasilieva:


This technique is mosaic, with slipped stitches and changing colours every two rows. It's not a technique I particularly like because all the slipping means you have to practically knit every row twice. This sock is made with garter stitch which I do not find an appealing look.
Beautiful cuff brim and heel and sole stripes:


So many socks this year have colour work in them, it seems to be an emerging theme for SM11! It made a lot of socks thick. Not bulky per se but warm.
In this sock madness there were also some bonus patterns, for the people who had finished their competition socks fast and had to wait for the end of the round.
This is Guise & Gyle by Carolyn (Candy) Degel:


Cables and stranded colour work and twisted stitches.
There was one sock that could benefit from a semisolid yarn, Ssssnakes by Bridget Landry:


There's a snake lurking in the greens.
And the other solid coloured, no stranding, no beads sock this madness, Retro Madness by Copper Blade Designs:


Just playing with knits and purls.
Here's the bundle where all the patterns of this year's Sock Madness will be: http://www.ravelry.com/patterns/sources/sock-madness-11/patterns
Now I'm getting ready for the last round of this competition and being a fun cheerleader. Of to search some more pictures and help those goats.
Go Puppymancer, go!

(breaking my own rule I did not put sources to the puppy and goat pictures yet. I'm too tired at the moment.)
(All sock pictures are pattern page pictures and are attributed to the designers of the socks.)