You know that I don't like stripes much.
Neither knitting nor wearing them.
However:


"Stripes with precise measure
are a knitter's great treasure."
I recently found out I'm sorted into Ravenclaw house at Hogwarts. It's for smart, witty people who love to learn. I celebrated by buying some beautiful Harry Potter self striping yarn from Wolop:

And I'm reading Harry Potter in Frisian, which anyone with a knack for Old English can read a bit:


Understandably I cast on for nicely striped socks and was enjoying knitting stripes.
Until I found out my stripes were too tight:

Soooo:

Enchanted by Ravenclaw stripes I started a marvelous hat. My own design: one part with these stripes, another part with smaller stripes and two wedges of cabled semi solid grey in between. It was going to be so precise and nice! Witty and smart too.
But yesterday I saw my stripes were uneven because when you knit to and fro your stitch count needs to be just right for the selfstriping yarn:


One stripe is 3 rows high at one end and 5 on the other. This does not do the yarn justice. Nor the pattern I was thinking up.
Aww, there goes my beautiful idea for a striped hat 😦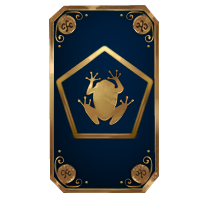 (Rowena Ravenclaw's chocolate frog card)
Today is Wednesday, Weird Wool Wednesday. I don't like stripes. I don't care for turquoise. I don't like knitting with blue. I do like grey. I have a lot of WIPs on the needles. I should be spinning.
This is what I'm knitting today:


A new Ravenclaw sock. On bigger needles, with more stitches.
You knów this one will be too big…
Because besides Ravenclaw I'm also a persistent Goldilocks:


Please come and save me from myself. I'm not smart at all. I don't belong in Ravenclaw. Ravelclaw more like…