I took a look at my Contiguous Blue cardi:


It's the sister of my Deco Cardi which are both made from one kilo total of that lovely Donegal Yarns Irish Heather, straight from Ireland.
This WIP is more round and friendly than Deco Cardi. Deco Cardi is more… deco.

It's too wide at the back:

It's too small at the front. It's meant to close flush but it's not meant to stretch like that over the bust.
I frogged it up to the sleeves (y'all still don't like the word arm pit, do you?) and will reknit, decreasing at the back for my sway back and inserting bust darts in the front. Aran weight, needle 4,5 mm, it should go fast. I already started the cuff of second sleeve last evening, winging a copy of the detail in the first sleeve:

It's a 3 under 2 cable, then purling 2 of those 3 and slip the 3rd. Then it's 2 over 3 cable and knit that first stitch together with the one you just slipped. Not just knit it: make a bobble. k, yo, k, yo, k. And give it long loops because you're not k5tog for at least 2 rows.
Then the rest of the cable: p2, k2 and p rest of sleeve round.
Make two rounds (all p, except for the two 2k from the leaf edge or frame)
Next round: k5tog from the bubble. All other stitches inside the leaf are purl stitches.
Now closing the leaf by decreasing the k-edge/frame over the p-stitches inside the frame. When the k-frame meets it's just a double decrease in k.
Now knitting on some more because the existing sleeve is too short. Have to decide on an edge too. Either a rolled hem or garter stitch.
I frogged Yuuret, a WIP from 2013:

A wonderful pattern, Yuuret (Roots) by Kessa Tay Anlin:


It uses the cable for shaping and it would serve my sway back so well!
I've spend months on knitting and reknitting it, trying to get it to work on my body. But the way the cable determines the shaping and where you have to put the decreases and at which pace if you change the pattern is just too difficult. And all that seed stitch!
My style has also deviated from the clearly fairy tale vibe this pattern has. Hee hee, I've gone into stealth fairy tale mode 😉
Yuuret was frogged, the yarn was soaked and I started arching cables jacket by Mercedes Tarasovich with the yarn because why finish a WIP when you can start another?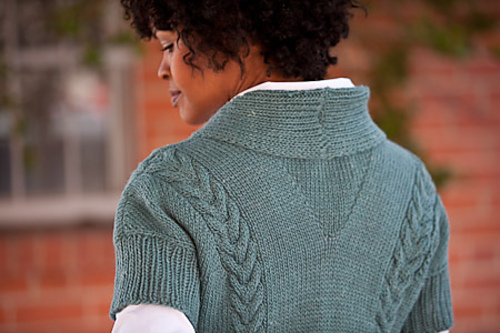 Fun pattern. You start with the belt, then work up. I like the shaping at the back. I thought: "Right! A nice pattern and I will just follow it to the lettre. No thinking needed, just mindfull mindless knitting."
So I knitted the belt. Started three times. First according to pattern. Then decided it would be too small so started again with extra stitches at the sides. Then realized this pattern looks best with stitches picked up at the end of the cable, not the end of the belt, and restarted with the fewer stitches, according to pattern.
Then I studied some of the project pages and saw that the pattern probably benefits from a bit of tweaking when you're a small person with big busts. Bust dart probably. But keep the edge of the front panel fitting, don't make it too loose.
Giving some attention to how the belt overlaps and where to pick up stitches, to avoid gaping. At least change the lower part, the pendulum…penta…what's the word.. the little "skirt" under the belt. PEPLUM! It tends to draw in and this looks weird on people like me who have a tummy and/or like to breathe with their belly.
Besides, the yarn is a hard blue. (Dyed it myself)(years ago)(my taste changed)(not sure I'd wear a hard blue anything much)
Anyway. It's now parked in the Raku yarn bowl in the middle of the sitting room. By no means stuffed in the closet. Yet.
I then took a look at Silver Buttercup or what was left of it after last week's frogging session:


I've got to be honest with myself here: it stretches over the bust (not super comfortable to wear) and the way the lace bits stretches… that's just painful to a knitter's eye.
Here it is in non-pained condition:

I frogged it up to the start of the waves. "If I just put in a couple of more waves, making sure the "dip" is still at centre front, then it will be fineeeee."
No it won't. I won't have enough yarn. So I'm going to frog it all and start over, in another year or so. See if I can bring in some colour stripes, to save the grey yarn. Speaking of grey: my hair is turning rapidly. I am loosing contrast in my face. Wearing a grey top like this will wash me out more.
So that's where the colour will go: at the neckline and probably the whole of that lacey bit too. If I find a suitable yarn that will play with this silk cotton blend by Rico.
Nijntje Sweater!


Looks good. Separated for sleeves. Knit on for at least another hand's width. Then start designing those stranded flowers.
Good 🙂 mindless mindfull knitting.
Crazy Stripes sweater was fixed by sewing.
I determined the excess flap and pinned it with clothes pins that happened to be stuck on our bathroom mirror (?? my husband is an odd one)(well, isn't everybody's spouse?)

I put the sweater on my sewing table, centre front on centre back. Can you see what's weird here?


Front excess is one finger wide, back a full three fingers wide.
That's what you get when you put the mammas in mammal. The front of my garments need more room than the backs. That's what bust darts do. That's why the back of all my sewing patterns have less width than the front. Not only at the bust but also below the waist because I have a tummy and a sway back.
For this knitting garment the side seam is not at the exact side of the garment. But it is at the exact side of me. Here CF is not at CB but the excess flap now has as much width at the front as it has at the back:

Sewed it shut, with a wide straight stitch, just to determine fit. Here worn inside out because that's how you determine fit when sewing darts:


Looks good to me. I will knit on, towards the hem. I will deal with how to finish that dart properly later.
I made decisions on two other garments but I'm done writing for now. I'll let you know about those two later. The funny thing is I could not make decisions on all my WIPs (there are five more!) because I'm now fired up to knit on the garments I mention here. I don't want any more to deal with, I just want to knit these!
Contiguous Blue, Nijntje sweater, Crazy Stripes and Little Flower Cardigan (more on that one a next time).