This is were I've been sitting the past couple of days, designing the stranded Art Nouveau snowdrop vest for my mushroom dyed yarns:

I've divided the yarns in lightest and darkest yarns. The vest will have a light background with a vertical design in dark. It will not be like fair isle where you have horizontal stripes and sequences, it will be more Art Nouveau Jugendstil:

 my chart sketch in Stitchfiddle
I've been designing both on Stitch Fiddle.com, the free charting site for knitting and embroidery, and in Photoshop and on paper: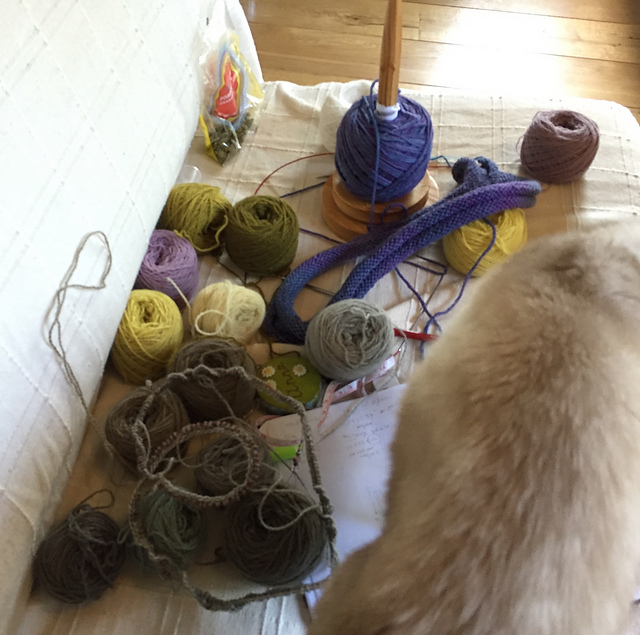 Here you see some sketches for the vertical design. Under the cat's chin is a stylised design that will break up the strands of three free flowing guirlandes with snow drop flowers:

 sketch in Photoshop for easy cut, transform and paste.
The stylised collomns will be at Centre Front, Centre Back and the sideseams. At the sideseams I can incorporate the waist and bust shaping.
For the past hour I've been casting on 236 stitches, for 2 x 2 ribbing. The body will be knitted over 260 stitches. My gauge will be somewhere between 26 and 30 stitches per 10 cm (=4″), depending on how relaxed I am.
I cast on using German Twisted Cast On. After each 50 stitches casted on I'd like to put in a marker so I don't have to recount them countless times. Cat inspection is necessary:

I can't believe this is the only crab hand marker I could find!


All others are in WIPs. I have tons of markers with a ring or loop and now all I want is crab hands and I don't have any. Except the green nature loving queens' crown. Typical.