Yesterday's calendar shows that I'm getting in the mood for Advent Calendars. This year I've bought TWO handdyed yarn surprise boxes!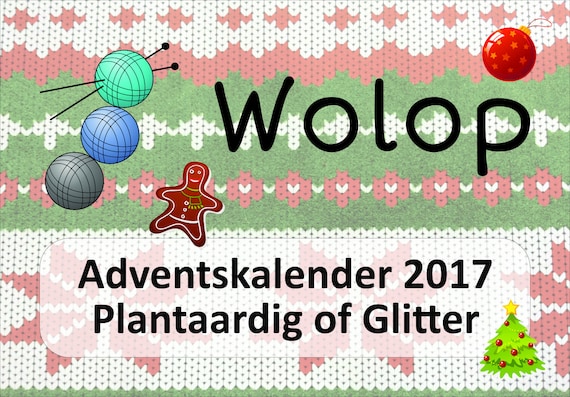 Wolop offers one with glitter yarn and one with hand dyed yarns. I bought the plant dyed one! Both will give about 10 grams each day in a soft fingering yarn with nylon. Wolop ships internationally!
Last year I had one with a different colour theme and made this stranded cowl with it:


So this year I bought the plant dyed one. Those colours will combine and harmonize with each other in an amazing way! I'm thinking stranded socks and wristwarmers or mittens. Or ànd socks ànd mitts ànd mittens. Or perhaps weaving…
The other box I bought is from Het Wolbeest, you know, the wool studio in the ceramic village in the South with the ice parlour attached.


Het Wolbeest also has two advent calendars, one Over The Top with glitter and nepps and dyed with speckles and multies. And one Soft and Mellow, with (semi)solids. Both contain 10 grams of soft sock yarn each day and this one has some little gifts in it. She's been teasing us with sneak previews in all greytones!
I bought the Soft and Mellow one. For stranded knitting. Perhaps socks. And mitts. And mittens! Or weaving?
So much choice and opportunities!
If you too are looking for ideas what to do with 24 x 10 grams of handdyed yarn, I have a bundle with ideas on Ravelry:

Not that listing options makes choosing between them any easier.
Yes, the first of December is going to be very festive and chaotic and colourful woolly in my house.
To heighten the anticipation I have my wooden calendar with the stitch markers.
And this:


It's an advent tea box from Sonnetor, bought at the market stall from knitter and spinning friend Meta from Thee-en-Kruid.
At the bottom of the tree there's a little door and one bag of tea slides out every day during Advent. As December approaches I will put more and more things on display to mark the change of season.
Thusly I try and structure the months to come. It is a conscious effort because I am submerged in a few things that need some counter-stress-measures and I also dread the shortening of the days.
These are things that give me stress:
By the end of this month, October, I have to submit a paper to the court against the manure plant they're still planning right next to the cabin. Over the years I have regained my abilities to concentrate, as I healed from my illness, and this is reflected in how I was able to address the court. First drafts were terrible. This year I'm finally in full swing and I'm playing with the big dogs, who now also take me seriously and sling some serious judicial mud my way. I am working at my maximum capacity and it gives a bit of dread, knowing this is it, that this is all I've got to give.
Of course there's the added stress that his case involves my personal living conditions at the cabin. The cabin is under threat and things will be different there, not for the best. My adversaries are merely seated behind their work desks and pushing numbers and stamps around. They get to go home at the end of the day, to a manure free, risk free living space.


Changing my frame of mind and looking at this strategically instead of personally/emotionally takes a lot of effort each time. Each time I do succeed and then I enjoy the strategic game, played within the boundaries of the law.
But then I return to the cabin and am overwhelmed again with losing the peace, the nature and the memories from the last ten years that I lived there, in harmony, healing. I find it difficult to go with the times, to accept time flowing forwards and growing populations.
That's one court case. By the end of the year there's a hearing in the second court case pending, about the same plant, and this one involves about 15 families in the neighbourhood of the cabin. For which I am the spokesperson and the one writing and submitting the papers. (Mind you, I have no training in this field. I'm just an urban engineer.) This case involves a lot of contact with my neighbours which I haven't even met all personally, yet. We communicate through email and they are very nice, even though they do not understand the judicial games. I also shield them from the mud that is thrown our way. Because that judicial game… it's not a pretty one.
In this social thing too I am coming into my own this year, having been a hermit for years, hidden in the cabin. This process however goes more abruptly, with me being bold and sociable one day and crying in my pillow fort the next. Introverts, ha! Such a fun bunch.
My neighbours accept my introvertness though and they are really nice and supportive. They gave me the flowers and the wine last week 🙂
As a third process this Fall I'm sewing my own clothes. A city wardrobe, following my own colour palette. I now have sewing lessons every week and I have that new sewing machine and things are going well. Still takes a lot of time and thinking and concentrating. Luckily no matter how "funny" or "idiosyncratic" I make something, my teacher always shows me ways to fix it. It's a lot like spinning yarn in that regard, you can always build on top of what you have and fix it that way. (This is not the case with knitting. Knitting you have to frog and build anew).

I hope to finish all the garments I need this year. Smoothly transferring into next year when I can just grab any thing from my closet and always look smart and coordinated.
If I dress nice I feel nice. If I don't have to question myself in front of the wardrobe I have a good start of the day. That's what the palette is for.
When I get all my sewing done this year it will become a hobby next year. For when I have time and inspiration or meet a nice piece of cloth. (Or weave a nice piece of cloth!)
That will leave a slot open next year for something nice. Something creative. Something productive. Something economically visible. Yes I hope, when the days begin to lengthen again, that I will have the calm, the health and the mental capabilities to feel truly alive again.
So I have a lot riding on a friendly unfolding of the last three months of this year. I've put some measures into place to achieve this.
I hope and expect the new year to be the start of new, fine thing!
It will also be 10 years, in February, that I became terribly ill from one day to the next. (I have ME/CFS/SEID, Addison's, DNA faults, mitochondria faults, ridiculous sensitive brain chemistry, EMDR, digestive disorder, lifelong insomnia). But I seem to have fixed this.
I'm still cautious but I'm making plans to celebrate my recovery in 2018.
So now we sit and behave until the good times start:


Wall calendar by illustrator Fiep Westendorp