Viltworkshop Odijk has an amazing studio:
The demonstration was awe-inspiring. 14 colours out of the same dye pot. Here are two dyepots, one from yellow flowers and one from cochinille. That's 28 colours all together:
Another example, using dye from only one onion skins dye pot:
There were about 30 visitors, all women, and all "wool women". Everyone was wearing something art-full and no one was keeping in her stomach, pretending to be prettier, and being miserable for it. They all had a technical keenness.
14 plants made into 14 plant dyes:
These dyes where then used to dye these tops:
Invitations for playing with stamps and tie-dying and eco printing:
Latvian easter egg dye technique. These were so vibrant in colour! The photos do not do it justice:
Another technique is hammering the dye straight into the cloth:
The lecture was amazing! It addressed the history of dyes, from cavemen rubbing red earth on there faces right up to the synthetic dyes of the last century. In between there was given much importance to the wearing of colour, singling out monarchs, Roman emperors and church officials as the only ones allowed to wear red and purples. Setting up guilds and keeping the recipes very secret. But only after dyers were snubbed for centuries because they stank up the place, with their buckets of fermented urine. And you couldn't trust them anyway, with their magical powers to change the appearance of something. And their chemical knowledge… Shapeshifting stinking magicians, the lot of them!
 Tyrian, royal, purple. $4.000 per gram 5 years ago. 11.000 snails needed per gram. 1700BC-1100AD
This mistrust and the fact that dyers weren't literate caused their dye recipes to be lost over the centuries many times. Egyptian times, Roman times, pre-ME times, Aztec knowledge, Mayan knowledge, ME-times, Neanderthalers, Peruvian recipes, Afghan recipes. All lost.
They also got researched and reinvented many times and it is something that modern dyers still do, in my opinion.
Nowadays we use bright and light fast colour in our cloths and surroundings as common as if it was sliced bread. But, much like sliced bread, the common and widespread use of it is fairly recent. Before that we had to "make do" with the traditional skills. (which I love).
And painters! We are so spoiled these days. Up until about a century ago every painter made her own paint. All through the renaissance and the Dutch Golden Age contracts were signed at the commission how much of the expensive Lapis Lazuli a painter was to use.
Those paints have faded… Only the most expensive ingredients may have survived. All tapestries and cloths and paintings have changed colour or have faded.
There was dramatic red in the sky of Turner's painting when he made it. But he used fast fading reds and now we're left with golden magnificence of a very different flavour. Artist' prerogative? The link goes to an interesting article by John Hulsey and Ann Trusty
Van Gogh used fading colours too. His irises were very purple when made. And his bedroom didn't have these tasteful docile light blue walls:
They were purple! And the floorboards were maroon. Put that against the green strokes between the boards and your 19th century eyes would start to water:
Van Gogh was way more colour mad than we give him credit for today. A whole new world of Vincent's colours is there to explore 😀
He lived in the time when for every colour a synthetic variety was searched. Between 1850 and 1925 the race was on, dear Watson. It was a chemical race. Practically all the large chemical concerns we know today started out in those times as small producers of one or two synthetic dyes.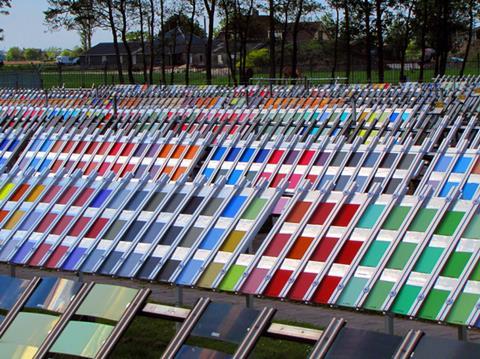 Today's AkzoNobel paint testing site in Sassenheim, NL
Anyway. I imagine that through every century the farmer-women have happily indulged into colouring their wools and their eggs with the plants gathered around their stead. Playing with what are called the "little colours" because they may fade fast you can have coloured garments every day, as long as you're willing to overdye once a year.
I did got to knit a little during the lecture, feeling every stitch blindly because my eyes were focused on the projection screen for Anja Schrik's very interesting lecture. She will repeat this lecture in Haarlem, at Meervilt, on the 29th of October and the 1st of December. There are also workshops and all the dye stuffs from the book are for sale.
I haven't even shown you the actual book. I'm very happy with it. For me it is very complete and clear now that I have seen the demonstration and the examples from the book. The lecture was extra information.
With the book I feel confident to start dyeing. As soon as next weekend as the indigo plants at the cabin are about to wither now that the frost is coming. Indigo is a whole different class from the plant dyes and the pigment dyes! I feel confident to address is. That's really saying something about both the book and Anja Schrik as an instructor.
The book Eco-verf by Anja Schrik I compare to Eco Colour by India Flint, which is also on my shelf. Flint gives a lot of atmospheric inspiration, Schrik has more recipes and hands on. Having never done a workshop in this material I've always found Flint's book intimidating. She is very good at it and I'd never be able to get her results. Schrik's book Eco-verf is more user friendly, having a whole chapter of step-by-step guides to get easy and reliable results.
But like I said, by meeting the dyer and seeing her do a demonstration and seeing the examples from the book, the information ordered itself in my head in a way that suits me better than when just reading a book or seeing youtubes about it.