Yesterday I was out knitting all day but forgot the Checkbox brioche socks on the table at home….
Luckily I brought a back up project:


These are the Dropped Madness socks from last year's competition. These started out with pattern Dropping Madness Socks by Maria Ekblad. The right one is the competition sock where I went wrong and only did the pattern on the front of the leg. I stopped these socks and casted on another pair of competition socks that got me through the round:

Ooh I remember now, about the mustard grey socks! I was so glad to start Sock Madness with them. I casted on while visiting Utrecht and going to the movies for the first time this century: Trainspotting 2.
Later I visited the gorgeous British shorthair Odin from stitch marker wizard The Woolly Dodo for some colour inspiration:


In the proper competition sock I scared a little hat into existence when my husband saw me starting my first afterthough heel ever.
Later I went back to the mustard grey ones because I'd been longing to own a pair of stripes socks in this colourway ever since I saw Nasti's beautiful socks.
So last year, after the competition, I casted on a second sock in ochre and grey, changed colour every four rows, and tried to make a sibling to the Dropped Madness but without the cumbersome stitch pattern. I like sibling-socks: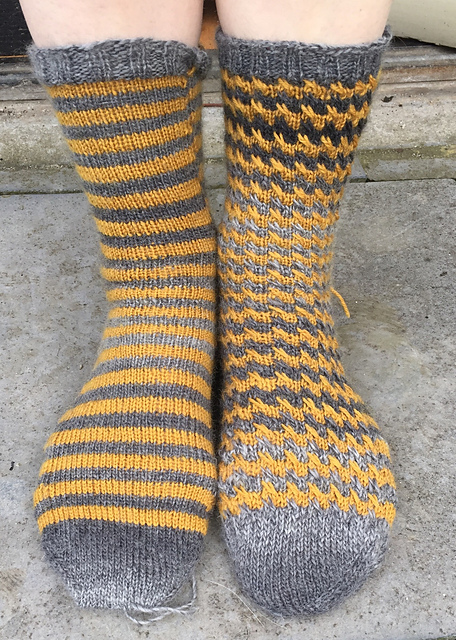 Only the Dropping Madness pattern is knitted toe up and has an afterthought heel and I was knitting the second sock top down and I know nothing about afterthought heels. How and where should the increases go when doing top-down? Over the Summer I put in a round here and there, trying to wrap my brain around the numbers. I copied the Dropping Madness pattern more or less but it was no fun because I could not try them on and had no way of checking of things would work out.
Yesterday was the last day of my struggles: cutting open the waste yarn, try them for fit and putting in afterthought heels. An afterthought heel is a good way to get a striped finish to a striped sock. I didn't know what I was doing, couldn't understand the pattern and winged my way and decreased on two sides. Basically I gave the heel a toe. In hind side I could have decreased more evenly and created the shape of a bull's eye, that would have looked nice on a striped sock like this.
An afterthought heel like this does not sit well on a high instep. Also: that's an ugly jog when changing colours:


The grey Drops Delight yarn has made me angry from the time I casted on, in Sock Madness 2017. It's a single ply, it's not rounded yarn, has not enough twist and it's fuzzy. A nightmare to tink or pick up live stitches. Now that the socks are finished it's already giving the socks a grey halo. Bah.
Conclusion: these are not my favourite socks. Too much un-fun things going on. But they are finished and I'm sure they will be well appreciated once the love for ochre/ mustard comes around again. Probably sparked by some garment I sew. A quick T-shirt in a fun mustard print. I can see it.
Today I travel to Utrecht again and I'm bringing this years Sock Madness sock:


It already has a heel and it's a nice Sunday morning here in the city. The sun is out and the birds too. I already had some yoghurt with forest berry jam for breakfast and there will be some fruit filled pie later in the day.