I caught a bug. It was the Noro-virus. Which I thought would look like:


Norovirus by Astrid Colding Sivertsen
But it was more like:


Amigumicrobe #2 T7 Bacteriophage and Amigumicrobe #1 Cold Virus by Krista Frank

Mr. Sniffles the Cold Virus by Wendy Smalley and Enterovirus D68 by Liz Perkins
I'm on the mend now. But I still have symptoms: I want to buy two skeins of Noro and knit that self proclaimed Bohus style stranded vest. It's free! (it's only the colour chart though, it doesn't explain how to knit a vest)
The joy of colours!


Norovirus by Astrid Colding Sivertsen
(I don't see purl stitches, doesn't Bohus always have some purl stitches?)
UPDATE Knitting instructor Lieneke from Wolop has been in touch: yes, Bohus knitting always incorporates purl stitches.
I've already looked in my stash, I have some Noro, but in the "wrong" colour. All warm and reds. But that other vest in the "wrong" colour makes me very happy so why not enjoy where the colours take me?


No no, I have other things on the needle!
I've made my first Crazy Stripe the other day, before Noro struck:


It's so enjoyable 🙂
And I have beautiful new yarn! Mushroom yarn, excellent for stranding!
And behind me on a chair is other excellent stranding yarn, which I brought here from the cabin because I couldn't wait for the mushroom yarn to be ready. Looking for a green nature loving Swedish inspired cardi: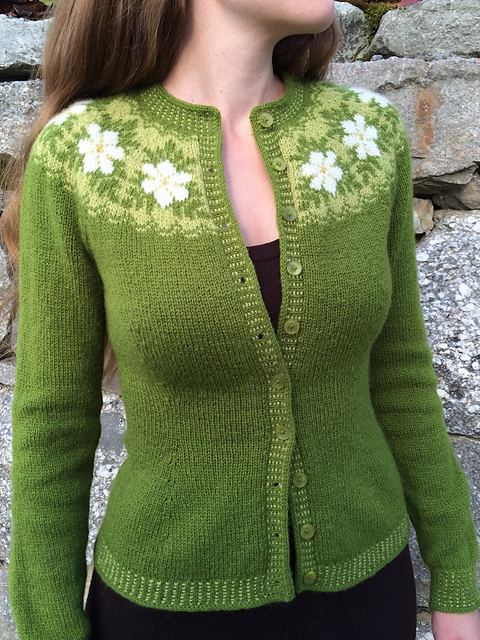 The yarn is Estonian, from RareWool, the former Evilla-mill. Akin to Kauni. Patterns are Hvitveis by Lene Tøsti and Wedding Belle by Mary Scott Huff. Lena8, the Swedish kofta queen from Talamodspasen, where I enjoyed a wonderful Advent KAL, made a beautiful Wedding Belle, here's a link to her project page on Ravelry.
O my, scrolling through her site I want to knit a stranded project so bad!
Oh. I've already combined the two greens from RareWool, in 2014. In a hat I never wear because it's too scratchy on my head. Good for a sweater though. And a good sample how hard the colours are together:


Yeah…. I'm going with the softer, natural dyed colours. As soon as I beat the virus and my WIPs.