36 grams, 156 m, of fingering weight, on needles 2,5 mm.
What a lovely knit. It's spontaneous row by row and you can't go wrong (very much).
Seeing that I love to wear these kind of cuffs I casted on for a second pair right away, from the remaining yarn: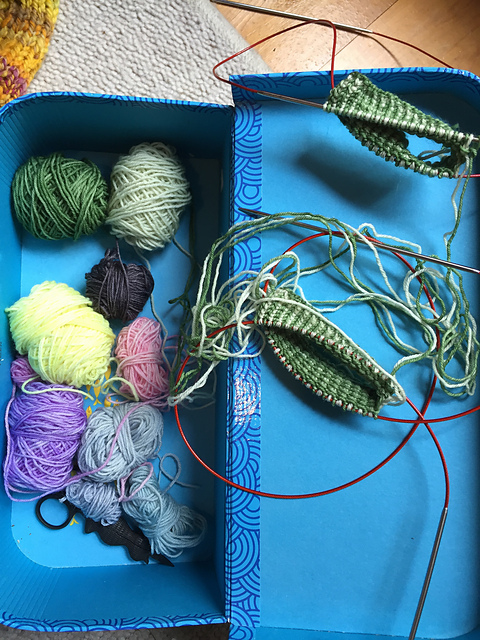 A more spring like palette:

 pic Rijksmuseum
This is a plate from 1910, from N.V. Plateelbakkerij Zuid-Holland, the typical Dutch ceramic heritage from Gouda I talked about before. I think it's called "Gouda pottery" in English.
They excelled in Art Nouveau/ Jugendstil which is a style I'm looking into for my Snowdrop vest in mushroom dyed yarns. I finished my study-cuff. I cut it open and blocked it to examine the stranded design better:


This would be one half of the front panel, bottom to v-neck.
There is so much to study here. From individual shapes and how many stitches should be next to each other to form a nice snow drop. (should a stem be 2 or more stitches wide or do we get away with 1 stitch?)
How do you get smooth curves in v-shaped stitches? Do I want one panel so densely filled or rather 2 or 3 strands that are more individual? I've been playing in Stitch Fiddle for hours. Trying this, trying that.
Delving into the start of Jugendstil and Art Deco more and more, helped by my new tea pot:

Seeing that the pottery is not particularly neatly made they either had old machines (Eastern Europe?) or this tea pot is from earlier than the 1950's. Then I found these ceramics from 1910 from Germany, with the same flaglike and star/flower ornaments. It's to celebrate a Silver wedding:

And I found this, from 1890:

But this is secession style, from Vienna 1890. An important group of artists, founding the Jugendstil and also the Art Deco. So I fell into that rabbit hole, gorging on visuals. I felt like an artist again 🙂
I made a new design for snow drop vest and I thought to try it out on the new cuffs in fingering yarn. I spend a whole day tweaking it so it would fit the very few rows of the cuffs, compared to the vest.
And then I thought the better of it because I like knitting the stranded cuffs row by row, improvising. And I look forward to wearing cuffs with small patterns, fair isle style, instead of an overall design.
Say goodbye to three days of work. Felt inadequate. So I did some sewing instead. For a quick feeling of accomplishment!
These two Summer dresses from the viscose I bought last week at Harry's Stoffen:

And these two cat shirts, from cotton tricot I already had:


It's four times the same pattern. Just cut a little longer or sliced through the middle and sewed together again. Add a fish shaped pocket if you want.
Now that I've been here two days on my own I've emotionally landed at the cabin. I'm not as anxious any more, the pain of the court case has eased sufficiently. I don't feel threatened so much any more, I enjoy being here. I enjoy the nature.
Today I went into the field to cut away the seeds from the "bear's claw" (Heracleum sphondylium, or Cow's Parsnip) so it won't spread. Don't you love our Dutch name for this plant? If you touch the sap it seriously looks like you got swiped with a bear's claw. My grandmother once had this and I still remember how her arm looked. I wore protection today.
On the flowers there were numerous "pyjama's bugs":


Graphosoma lineatum. Ah, English people call it the Striped bug or Minstrel bug. In Dutch it really is called the pyjama-bug: https://nl.wikipedia.org/wiki/Pyjamaschildwants
Oh and I saw the squirrel drinking from the birds' bath! He's here every day now. I'm glad we filled up the bath.
Lillepoes is overly happy here 🙂


Time to do something woolly. And/or sew woven cotton.
Those are strips of aluminium foil, to tell the birds this is not a safe way to fly through the forest.
In the foreground are cookies, speculaasjes, which are rather a Winter treat but they are oh so tasty in the one cup of black tea (Lady Grey)(with cream) I'm allowed per day. They are tied in with our colonial heritage and spice trading: